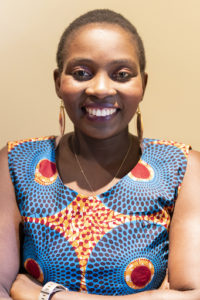 Hello I'm Dr. Tabeth Masengu!
I have a joint Doctor of Laws degree from Ghent University and a Doctor of Philosophy from the University of Cape Town.
I have spent several years of my professional career conducting extensive advocacy and empirical research in the areas of gender, the rule of law, good governance and human rights. I have experience in advocating for and providing input for gender mainstreaming policies, rule of law initiatives as well as analysing and supporting governance initiatives. I also have experience engaging with various stakeholders on a regional and international level. This work has included collaborations with government institutions, the judiciary, multilateral organisations, non-governmental organisations, UN entities, civil society as well as academia.
My 12 year legal career commenced after graduating with my Bachelor of Laws degree (Cum Laude). I initially started off in a commercial law firm before being admitted as an Attorney of the High Court of South Africa in 2010.
I thereafter branched out into human rights advocacy work at the world renowned Treatment Action Campaign, where I served as the Project manager in the office of the Secretary General. Among others, our goal was to ensure access and provision of Antiretroviral drugs to those who needed them and advocate for the rights of those living with HIV/AIDS.
After obtaining a Masters of Human Rights Law (Cum laude) from the London School of Economics and Political Science, I joined the Democratic Governance and Rights Unit where my areas of research and advocacy were the rule of law, governance, gender and the judiciary, judicial appointments and constitutionalism. I facilitated at and presented my work at regional training for judges and Civil Society Organisations (CSOs) and spoke at numerous regional and international forums. I have published numerous peer-reviewed academic work in international journals and I have chapters in books on Constitution building in Africa and the 2019 Research Handbook on Law and Courts, published by Edward Elgar.
I defended my PhD at Ghent University on 20 May 2020 and was awarded my degree from the University of Cape Town in June 2020. I am an affiliated Researcher of the Human Rights Centre at Ghent University and also an Honorary Research Associate at the University of Cape Town. I also recently obtained a certificate in Results-Based Project Management: Monitoring and Evaluation from WITS University via edX.
Specialties:  Rule of Law, Gender and Judging, Equality and the Law, Good Governance , Human Rights Systems, Intersectional Discrimination, Policy Reform, Advocacy, Research reports and Peer-reviewed material, Multi-sector Collaboration and Partnership Development.